The long wait is over and the NFL season has officially begun!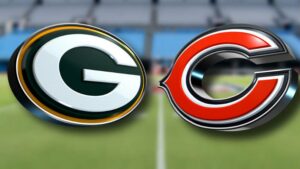 Last nights game between the Bears and the Packers is one of the NFL's oldest rivalries and it did not disappoint. Aaron Rodgers and company were up against the best defense in the league and it was a defensive battle indeed. Under betters everywhere rejoice! 
Once the game 2nd quarter started it was a different story. Aaron Rodgers reminded us that he is Aaron Rodgers. It only took Rodgers 4 plays and 1:35 of the game clock to march 74 yards down the field to score the games only TD in impressive fashion. The drive was a statement. A statement to his team, to the rest of the NFL, and most importantly a statement to Packer fans that this season will be different. Aaron Rodgers if even for one drive made the Monsters of the Midway look like a pop warner team just to remind Packer Nation to R-E-L-A-X...Aron's got this.
But what was the X Factor in topping the Bears D? What was Rodgers "secret weapon"?
Was it Jimmy Graham showing off a small piece of what made him unstoppable in New Orleans or Valdes-Scantling finally realizing he is faster than the secondary and that he can catch? Nope. It most certainly wasn't Aron Jones, who was about as much as a factor as I was drinking a beer watching. 
It was the Moustache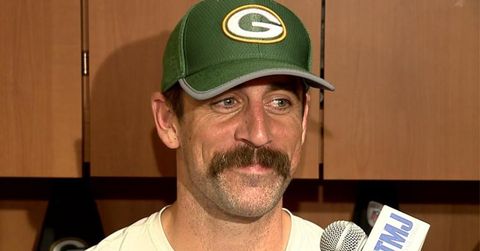 The Moustache gives Rodgers the ability to see the field, make the tough throws, and slice up the Defense easier than Wisconsin Cheese.
Fantasy owners and Packer fans everywhere beg you Aaron...
Don't Shave it Bro.
Glad to have the NFL Back and Fantasy seasons underway. Check back to the Throwin Picks page for Free NFL Picks and Props this Sunday and be sure to follow @TMessageBoard on Twitter.
-Commish