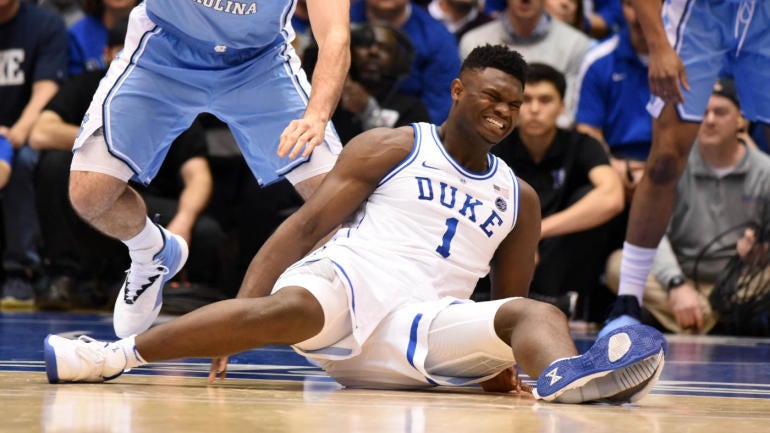 I am just going to come out and say what we are all thinking. Zion is not going to play another minute of college basketball……There I said it……yes it hurt, but we have to realize what is going on here. Put yourself in Zion's shoes here (no pun intended). If you were injured and were a projected #1 overall pick who is going to be cashing checks left and right in a short few months here, would you ever play college basketball again? He has nothing to gain and more to lose if he plays another minute. I am a very large Duke fan. I have told my girlfriend over the last few years that we cannot get married until Duke wins another championship……..I said that after the 2015 championship….I had to buy myself some time here. But seriously…..we need to talk about Zion.
I am starting to believe in more of the rumors that point to Zion being completely healthy. I truly believe that he was ready to go in the second half of the UNC game, but his parents stormed into that locker room and told Coach K on the spot there that their son will never play another game at Duke. I normally don't even give these rumors the time of day, but as we keep inching closer to March Madness, this is starting to become more of a reality (or nightmare). Some could argue that Duke is holding him back just to unleash him during the tournament. I know that is what Duke is praying for, but their prayers aren't going to be answered.
What I believe is truly going on here is that Zion and his camp have fully told Duke that he will never play another collegiate minute. Duke knows that their championship hopes rest heavily on the broad shoulders of #1. But let us not forget the craftiness of Coach K. He has a plan, I may be wrong, but we all know he has a plan. I believe his plan is to keep telling the media and the NCAA that Zion will play again and that they are just taking baby steps. He will keep teasing the idea that Zion is going to be good to go for the ACC tourney. Then he'll say that we were so close to getting Z going, but now they want to wait for the big dance. That's when he will fool the NCAA selection committee into giving them a much higher seed than they deserve to try and ride out their chances to somehow make the dance with a 6 man roster. Where Zion won't play, and Duke will inevitably get bounced in the round of 32……I will get made fun of for being a Duke fan…….I'll go cry myself in the corner for a while……then I'll wait till next season to start this process all over again.
Again I ask you to put yourself into Zion's shoes (again no pun intended here). Do you ever play another college basketball game again? If I were a betting man……and I am……I say we never see Zion in a Duke jersey ever again. I hope I'm wrong……Oh I hope I'm wrong. But in the scenario I'm not wrong, all I have to say is this. Thanks for the ride Zion, it was fun while it lasted.