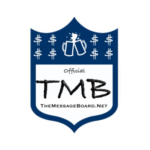 PRESS RELEASE
CBSN Bismarck
Commissioner Wahl Promises 'Thorough' Review Of Collusion Accusations
December 18, 2019 at 7:47 am
By Michael Squirrely , CBS Sports Bismarck
BISMARCK (CBS) — For most of the week, the news has been pretty good from a League perspective with regard to the 2019 League Playoffs and Toilet Bowl. A little too good. Thats when fellow league officer, two time Rhoda Bowl Champion, and O.G. Toilet Bowl Bitch Jordan Stoddart dropped bomb on Championship Week alleging Collusion and outside team management from current Toilet Bowl Bitch Austin Fauske.
Fear not, though, because everybody's favorite fantasy sports commissioner is on the case.
Commissioner Wahl spoke to the media after the early morning news broke of alleged collusion by another manager in the league. Suspicious roster moves not only limited to start/sit roster selection but strategic add/drops and team management by a non league member are the main grievances outlined in the complaint that was filed with the commissioners office early Wednesday morning.  Wahl will be conducting an in depth review of the situation and he promised that he's got his best men and women on the case, and that they're going to investigate this matter as thoroughly as they can.
Given the fact that Wahl is also in his first ever toilet bowl final with FNG and his overall mood and attitude are at all time lows with a particularly vindictive demeanor this week doesn't sound like the best news for the fate of team managed by Fauske.
"It's under review. We're going to be thorough," Wahl said. "We're going to take our time and make sure we look at everything that's pertinent here and make a decision."
Despite reports from FFL Network suggesting that a decision could be made as soon as this week, Wahl gave no timetable at all as to when this investigation might conclude.
"One of the things I've learned is you don't draw conclusions until you have all the information," Wahl said. "From our standpoint, I want to look at all the information. Once we have all the information, then we draw conclusions."
Wahl was also asked if the Fauskes league history — namely, that time he lost the Toilet Bowl in 2018— would factor in when the commissioner decides what to do with the current matter.
"Of course it is, that's a factor," Wahl said.
Earlier on Wednesday, executive vice commissioner Dan Schwab was asked about the matter, and he said he and the league will continue to try to find facts.
Anyone who paid even slight attention during the multiple years of collusion drama and bull shit vetos from past league office regimes know that it's never good when Wahl and Schwab are interested in a mission of fact-finding. They've shown a knack for finding the facts.  i.e. The Bullshit Trade Veto of 2012
More on this matter to come.
©2019 CBS Broadcasting Inc. All Rights Reserved.
Powered by WordPress.com VIP
By viewing our video content, you are accepting the terms of our Video Services Policy
Privacy Policy Terms of Use Your California Privacy Rights Mobile User Agreement Public File for WBZ-TV / WBZ Public File for WSBK-TV / myTV38 Public Inspection File Help EEO Report