Pau Gasol issued a thank you to the city of San Antonio and the Spurs organization saying it has been a dream to play for one of the most storied franchises in NBA history and it was an honor to be a part of the Spurs franchise. You can keep the thank you Pau, the city of San Antonio thanks you for leaving clearing the way for someone else who isn't old as dirt and has the ability to contribute.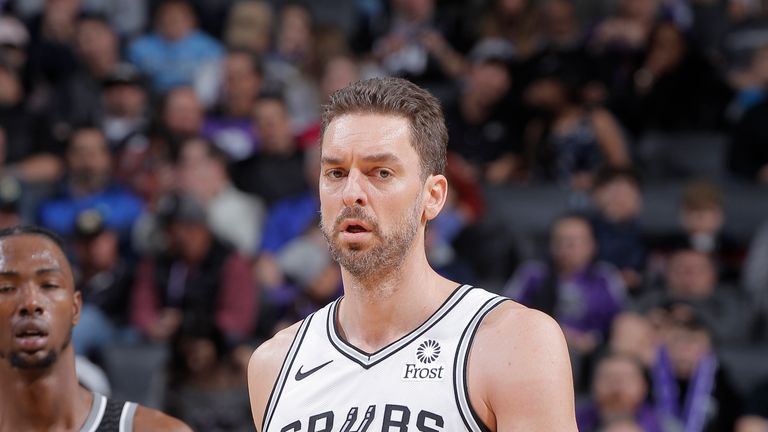 Ever since Pau left the Lakers and went to the Bulls in 2014 he has had a decline year over year in every major statistical category. That's 5 straight years of being worse than the year before. If Pau was a penny stock he would have hit .0000 by now and anyone still holding it would have jumped off a bridge.
It was probably news to most Spurs fans that he would be leaving to go to the Bucks as most of them probably forgot he was even on the team. He's only played in 27 games this year (42% Of Games) and before his injured foot gets brought up even when he was playing he hasn't contributed much in those games only playing an average of 12.2 mins per game. Its gotta burn a little to know that a team would rather pay you to go away than let you sit at the end of the bench and retire quietly at the end of the year
At 38 it's pretty unclear what he will be able to contribute to a young Bucks squad. Can't be anything more than just a veteran locker room presence. Someone to tell those younger guys how Kobe did it back in the day but you don't need to burn a roster spot for that.
I haven't seen what they will be paying him yet but the minimum wage in Wisconson is $7.25 but even that is too much. The Bucks are going to have to give him a broom or put him in charge of keeping up with Giannis' laundry to make sure they aren't overpaying.
NOT SO BOLD PREDICTION…..This is Paus last year in the league
So, in the end, the city of San Antonio is the real winner here, whatever they paid him to go away it was money well spent and now they can focus on the Lottery and rebuilding the roster that was once a western conference powerhouse.
PS Be sure to follow us on Twitter @TMessageBoard and check out our League Gear Store
PPS – Click an Ad or two while you're on the site, it helps keep the site going and probably more importantly…buys us beer for our fantasy draft….thanks in advance